Pulse Jet Bag Filter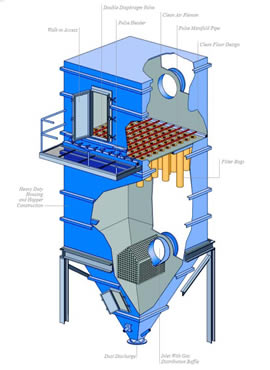 These are Notable Features of the generation VS PJ fabric filter are as under:
• Compact design
• Shorter bag change out time due to unique design of bag and cage tops and manifold pipe fitting.
• Lower operating pressure drop due to use of most suitable fabric media and best cage and bag fit.
• Lower compressed air consumption.
• Extensive field information used for selecting the best media for a given applications
• Low investments and maintenance cost is minimum
• Low compressed air consumption with high bag Cleaning efficiency
• Low power consumption combined with high filtration efficiency.
• Minimum Pressure drop in the bag cleaning system
• Filter bag replacement is simple
• A compact assembled unit
• Assemble work is minimum and work inventory of spare parts

Further reading